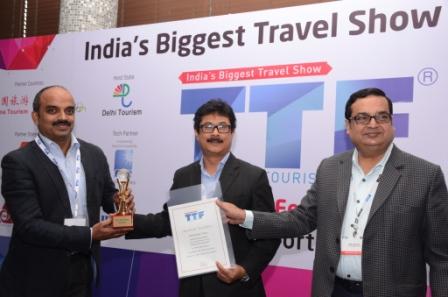 Posted by webcrs
On February 16, 2016
0 Comments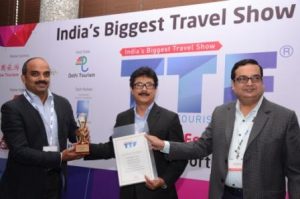 The Travel and Tourism Fair (TTF) was held between 12th to 14th February at Thyagaraj Sports Complex in New Delhi.This time the theme was 'Sustainability and Responsible Tourism' and it featured over 205 exhibitions from 25 states and 13 countries displaying tourist destinations and latest trends in the sector.
WebCRSTravel Technologies Pvt Ltd won the coveted 'Award for Excellence for Innovative Product' for its game changing product 'WebCRS Travel', a software designed to help travel agents/tour operators automate their back office operations. This win comes after WebCRSTravel Technologies Pvt Ltd won the Travelport Hackathon award in Bangalore last year.
The award serves as a testament to the hard work and dedication WebCRSTravel Technologies Pvt Ltd continues to put in to promote the travel and hospitality industry and provide affordable quality technology solutions to all players in the industry. This achievement would not have been possible without the support and goodwill of clients across the globe who contributed to making our products better through constant feedback and appreciation.
WebCRSTravel Technologies Pvt Ltd (webcrs.com) has changed the travel space by creating an application suite for the travel industry that enables travel/tour operators to respond to enquiries faster, keeping in mind the professional angle for every quotation. WebCRS Travel helps staff to be efficient and productive by easily managing supplier data and producing image rich publishing documents. For more details visit www.webcrstravel.com or www.webcrs.com